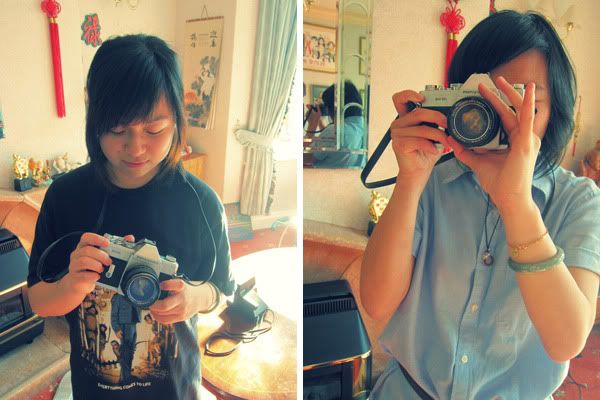 My dad was cleaning out the garage and found some old school cameras, Polaroid sun 600 and
Mamiya
/
Sekor
! They look
sooo
cool. I have always been a fan of analogue photography just never had the medians (except my
diana
mini) or the inspiration to experiment with it. Cant wait to try out these bad boys!
haha
.
The Polaroid camera is just like how i remember it was. We use to get it out during special occasions and snap and shake away. Good times. Then it disappeared, probably got lost in the big move, i missed it. But the main problem is film! Good one
polaroid
for not producing them anymore ¬__¬ Thankfully,
The Impossible Project
are producing coloured and black/white film saving the good old
polaroid
camera. Costs are pretty steep tho, at about £20 for 8 photographs... wow. But, my Birthday is coming up in a couple of weeks,
hint hint hint!
The
Mamiya
/
Sekor
? Man, I have never seen this camera before! My dad said he bought it when he just moved to the UK so bought in the 70's/80's? wow. Love the feel of this camera, and all its buttons and dials, but really heavy.
Dont
know if it still works, need to buy some film!
And since i cant get real
polaroids
might as well do the next best thing; make your photos look like
polaroids
! I downloaded
this

Polardroid

programme
. Wow its so much fun! Just got to drag your photos and a
polaroid
comes out, also has 'authentic' sounds and you have wait for the photo to '
develop
'.
hahah
. Above at some photos that i produced... :D Have a play with it! Or u could p/s them but
im
well lazy :P
J x